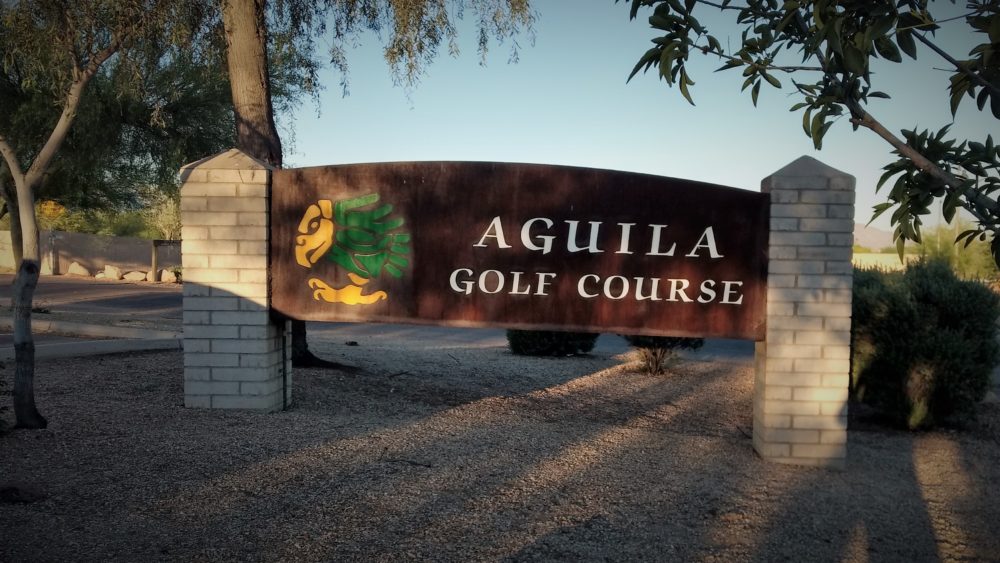 About Aguila 18… Hole # 1 Gary Panks links design course Challenging layout and design for all levels of golfers Transition areas feature native grasses and wildflowers Set at the base of South Mountain with scenic mountain views Three lakes come into play on five holes Scenic skyline views of downtown Phoenix.
VGA Big Dog points winners for today's event. Danny Delgado is in 1st place with a 66 net. Jim Emma for 2nd place with a 69 net and Rusty Silverman in for 3rd place with a 70 net score. Mike Roether, Cathy Harvey, and Joey Hochevar tied at 71 net and shared the Atta Boy.
Flight one top 3
Emma 1st, Silverman 2nd, M Roether 3rd.
Flight two top 3.
Delgado 1st, Cathy Harvey 2nd, and Randy Thomas 3rd.
Full Stats from VGA Golf Genius
2023 Stats click here. / 2022 Stats click here. / 2021 Stats click here. / 2020 Stats from Golf Genius Click here. Birdies (skins) scored, Net scores for each flight, all player's scores, and CTP links, plus a full scorecard for any player by clicking on their name link in all golfer's scores link. When you get there to find the event you wish to review click on it and open individual options, no password is required.
Perhaps these video tips could help your game
Up next for VGA, Wednesday, November 23, 2022, Bear Creek (+) 8:00 am $48.00. Tap here to get the course website.
The Bear's Den Bar & Grill includes a bar area with plenty of seating, comfortable shaded patio seating with beautiful views, and three large flat-screen televisions always tuned to sports. The Grille menu includes salads, sandwiches, wraps, burgers, appetizers, and breakfast (breakfast served 7:00 – 11:30 a.m.).