Click here to review VGA Golf Genius info.
Covid-19 be aware.
To all VGA players: Please, you should bring enough drinking water with you to make it through your round. Some courses are not providing water or coolers during the covid-19 era on the course and on some, the cart girl doesn't exist either. It's going to be a long Summer.
To: All VGA Members: It has come to the attention of the VGA Board of directors there are member concerns regarding the Corona Virus and whether or not the VGA should or should not continue to play its tournaments. A vote was extended to all board members for their opinion regarding this issue. Responses from all 13 board members voted in favor of continuing its play golf tournaments until such time the public is ordered by the Governor to "Stay at Home". The VGA board recommends taking all necessary precautions if there are any concerns including bringing hand sanitizer or sanitizing wipes. The board also recommends using your common sense. If you're not feeling well, stay home. Golf is one of the few activities we have during these unique times and as a result, the VGA board recommends to play golf, have fun, but be safe.
Respectfully, Dan Campos, VGA President
---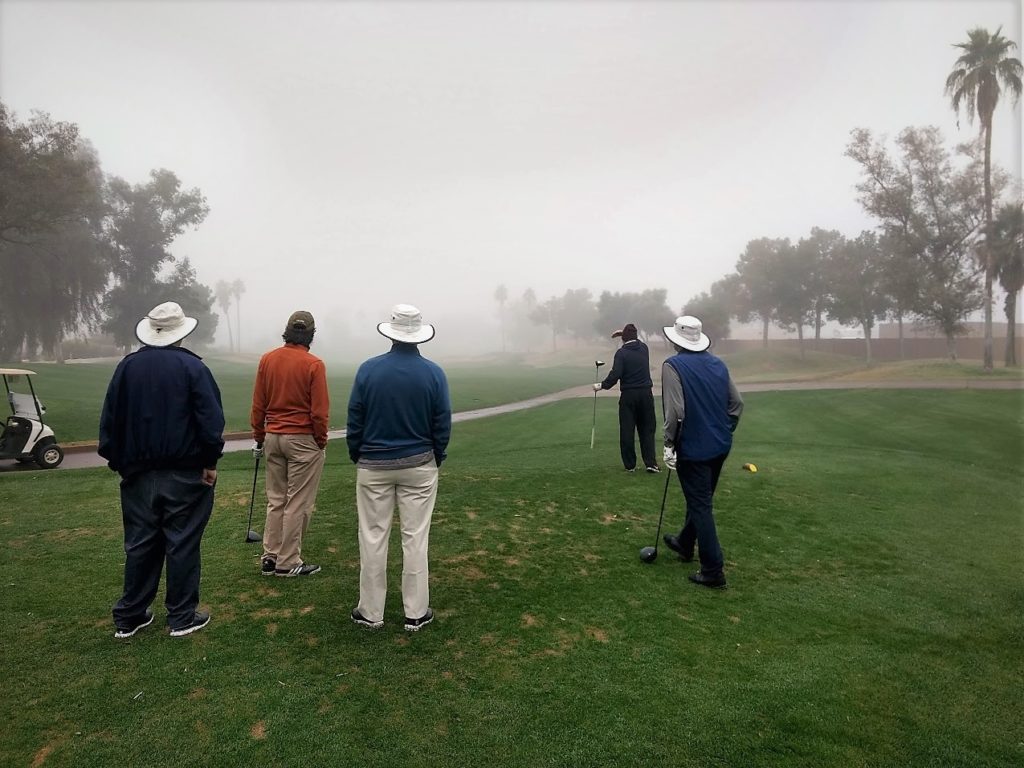 Preview of upcoming events below.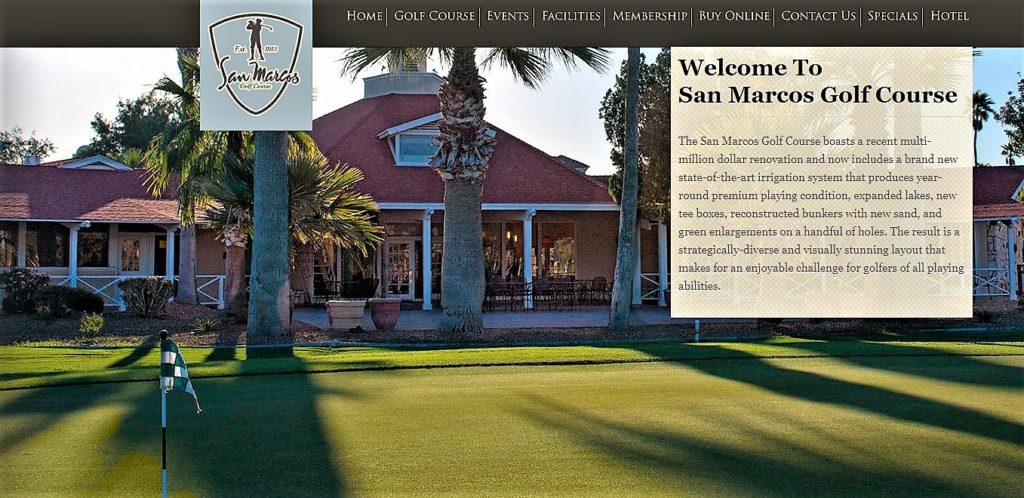 ---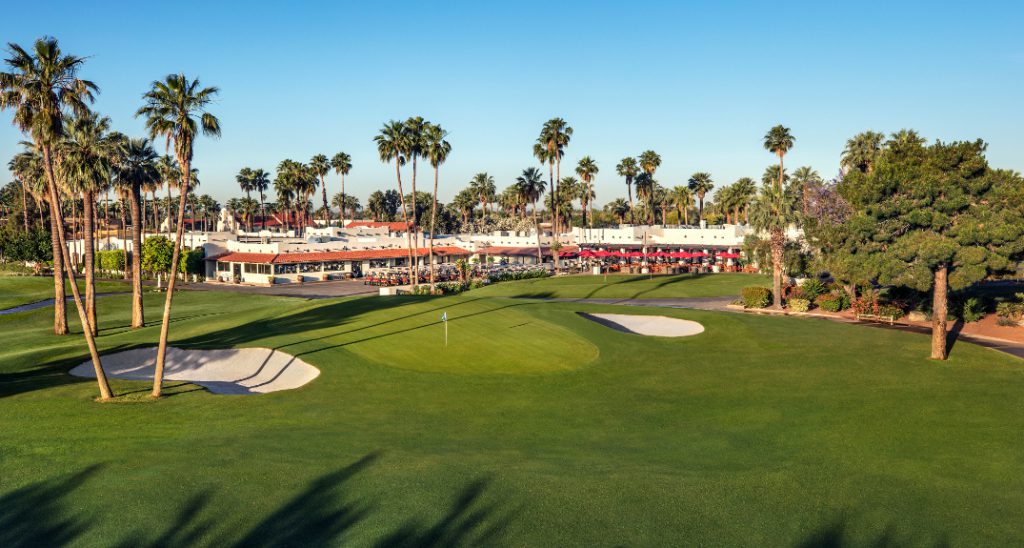 ---
Saturday, October 31, 2020 Los Caballeros (+) 8:00 AM $60.00. Click here to get the course website. Click here to get the course website.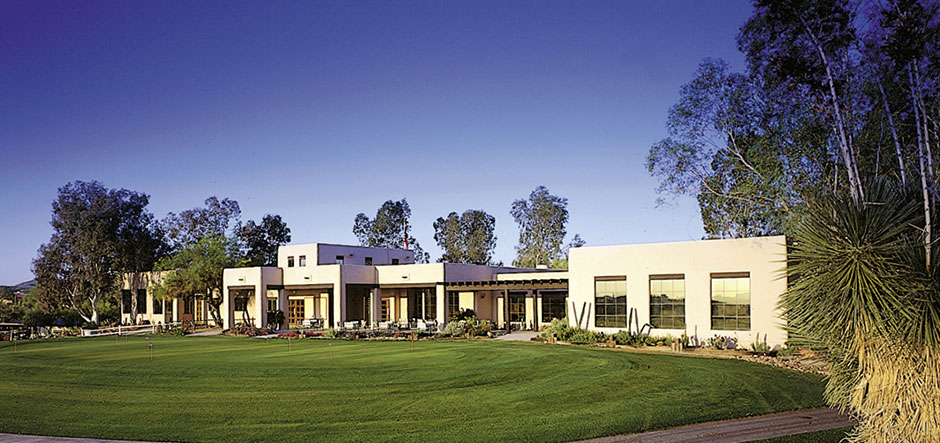 ---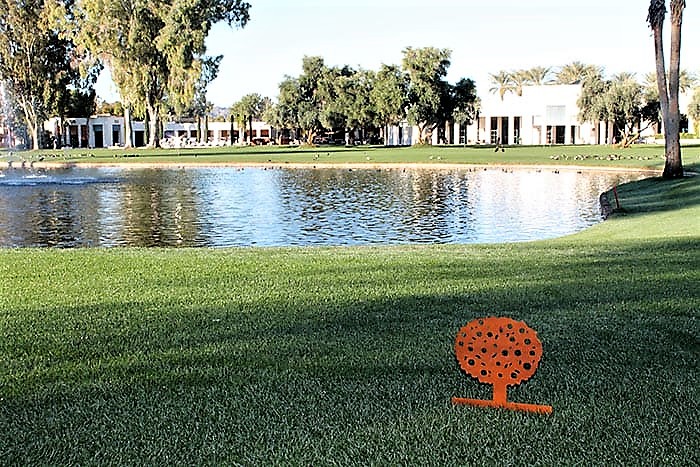 ---
Complete Entry Rules
Signup Policy: Players who intend to participate in any VGA event will receive an email invitation from the event coordinator approximately 2 weeks prior to the event date. You may choose Playing or Not Playing. If you choose to play, you will receive a Round Signup Confirmation confirming that you are either registered or are on the waitlist. If you choose not playing you will receive a Round Signup Confirmation confirming that you are not registered. Keep the response in the event you change your mind. If need be, you may cancel your entry using the online entry page on the VGA web site. You can communicate directly with the event coordinator through Golf Genius software. Your name will be added or removed by your input using this method. (1) First come, first served. Those who sign up within the noted time frame shall be selected to fill available slots first; (2) If timely requests are greater than available tee times, the course will be asked to allow fivesomes or provide additional tee times; (3) Late requests will be given consideration only if slots are available; (4) Guests may only sign up one week prior to the event. The price shown is the green fee quoted by the course for the event. Both guests and members pay their own green fees. The price is subject to change based on later contract negotiations with our club. Both guests and members are required to pay $1.00 and are entered into the CTP pot. An additional fee of $3.00 and or $6.00 is collected from VGA members who wish to participate in the birdie pot and or prize pot for the day (optional). Guests may not participate in the prize pot or birdie pot. (Fee for Guests will increase to $5.00 on November 1st, 2019) Onsite check-in must be completed and all fees paid to the event organizer at least one half-hour prior to the first tee time shown for the event. VGA Event Coordinator has the discretion to deny your optional entry payment if not paid prior to the 30-minute deadline. If you believe you may be late call the Coordinators at the top of the page and let them know or have a friend pay for you.
GOLF COURSES MAY ASK VGA TO GUARANTEE PAYMENT FOR THE TEE TIMES RESERVED. If the VGA is charged green fees for players who signed up and didn't show up or cancel 48 hours prior to an event start time, the players will be billed accordingly. The player will not be allowed to enter additional events until he reimburses the VGA.
---
2021 Special events to be played & been played this season.
2020 VGA Club Championship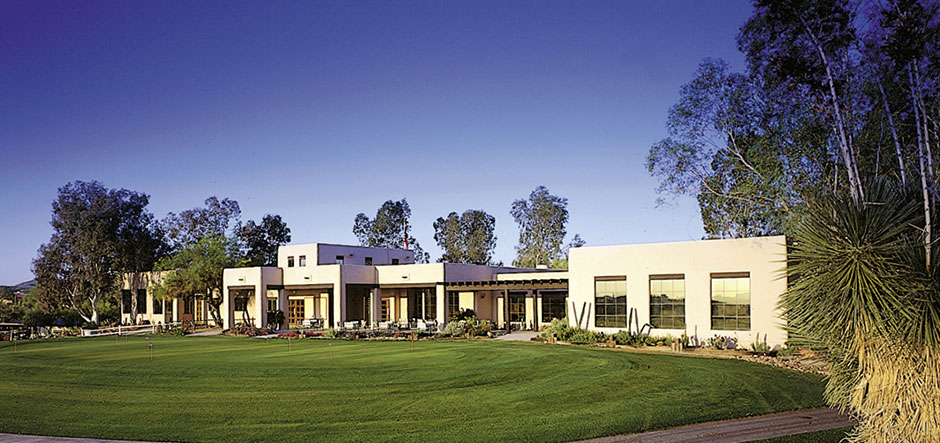 The 2020 Club Championship is scheduled for the weekend of September 5th and 6, 2020. This year both the first and second rounds in the two-day tournament will be played at Los Caballeros. Only VGA members with a minimum of ten rounds played over the last year in VGA events are eligible for the title of VGA Club Champion and Cash Prizes. The starting time for each day is 8:00 and the greens fee for both rounds is $45.
The tournament will consist of two or three net flights based on the number of participants. Each flight will have around eight to ten players. If there are two flights in the tournament, then the first four places in each flight will be awarded prize money. If there are three flights, then the first three places in each flight will be awarded prize money. The prize money amounts will be $200 for first place, $150 for a second, $100 for third, and, if needed, $75 for fourth place. Prize money will be awarded at the annual banquet in November.
Let's have a great turnout! Make your plans to attend now! Players that are not eligible for the title of VGA Champion are welcome to play both days as well.
---
2020 VGA Club Champions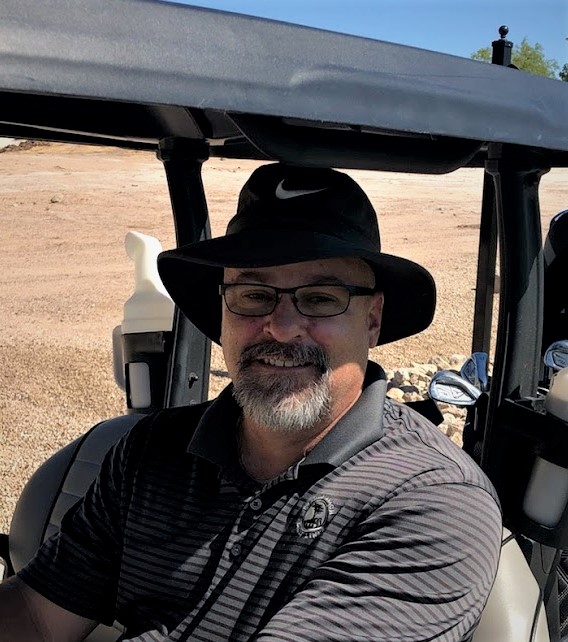 2020 VGA Club Championship Day 1 scores.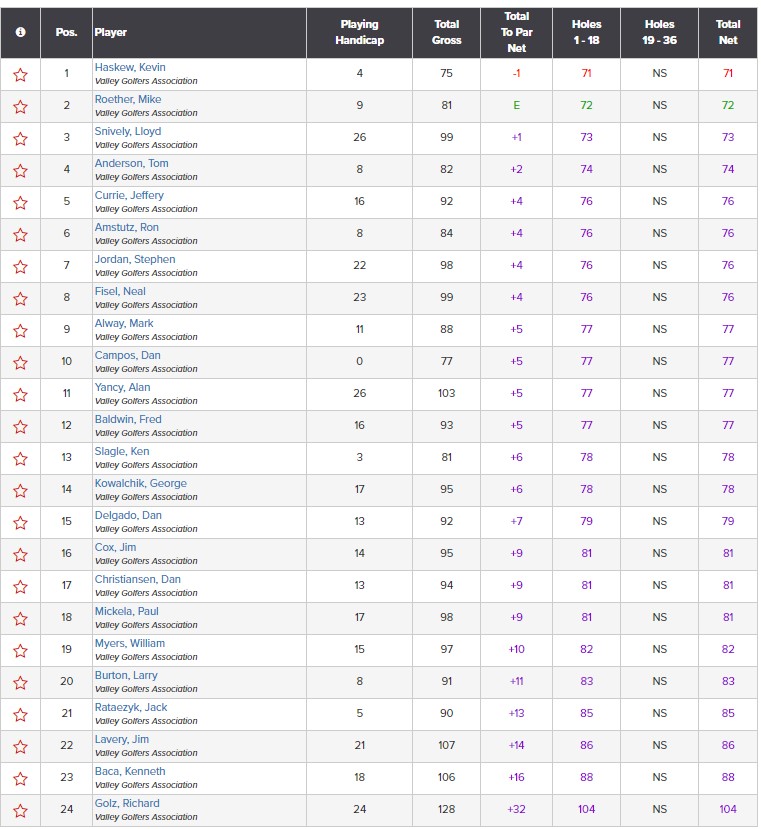 2020 VGA Club Championship Day 2 scores.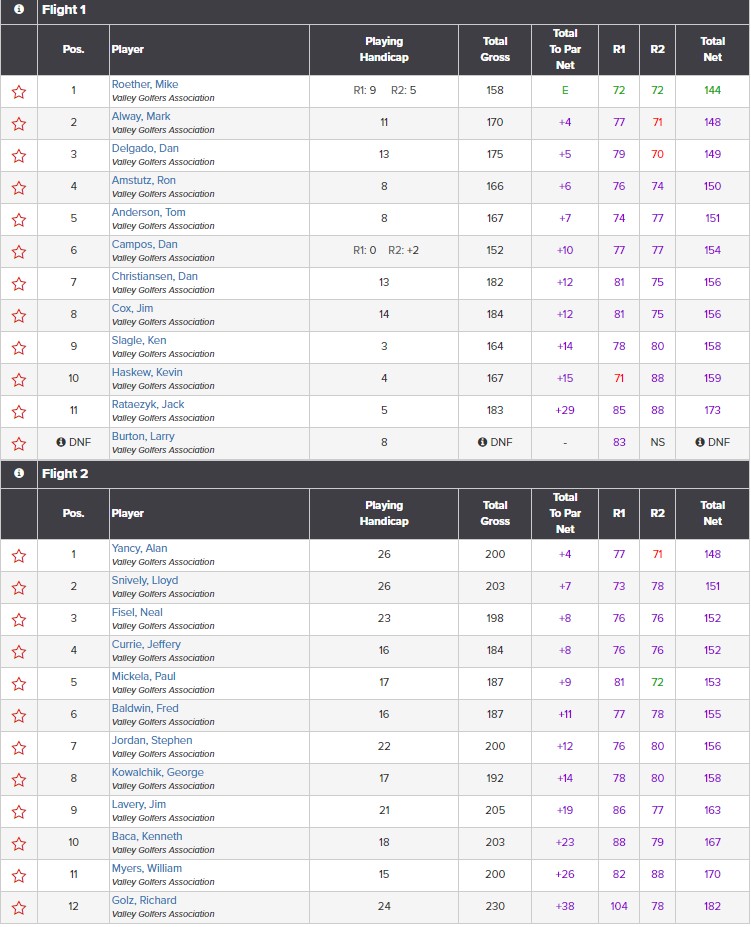 ---
JPGVO, John Pierce Green Valley Open coming up May 22nd through 25th in Green Valley AZ.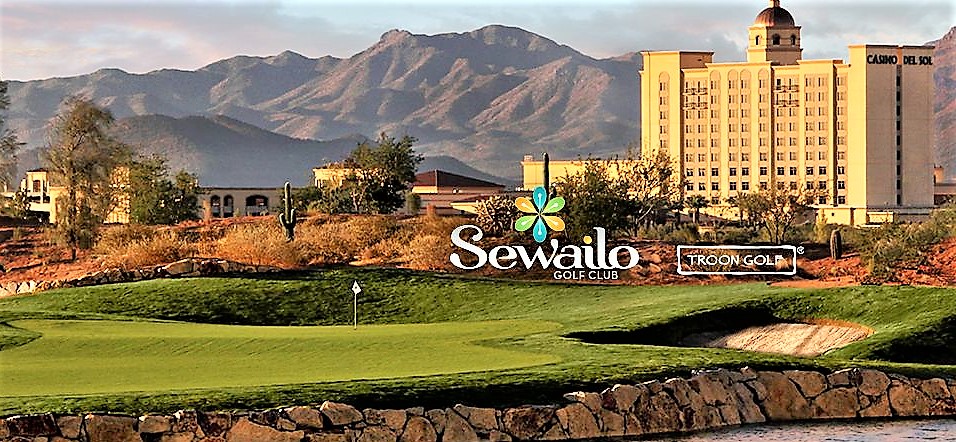 The VGA invites all members and their guests to sign up for the John Pierce Green Valley Open annual golf tournament. The event is a stroke play tournament held over Memorial Day weekend. The actual tournament is a 3-day event starting Friday, May 22th and ending Sunday, May 25th.
This tournament is a non-sanctioned VGA event but rounds played go toward the eligibility for the Club Championship. Posted scores apply as tournament scores (T) to your handicap. The entry fee is $60.00 for player pool + Green fees for each course. The event coordinator is Danny Campos. If interested call Dan at 602-481-5560.
JPGVO, John Pierce Green Valley Open. Finals scores below.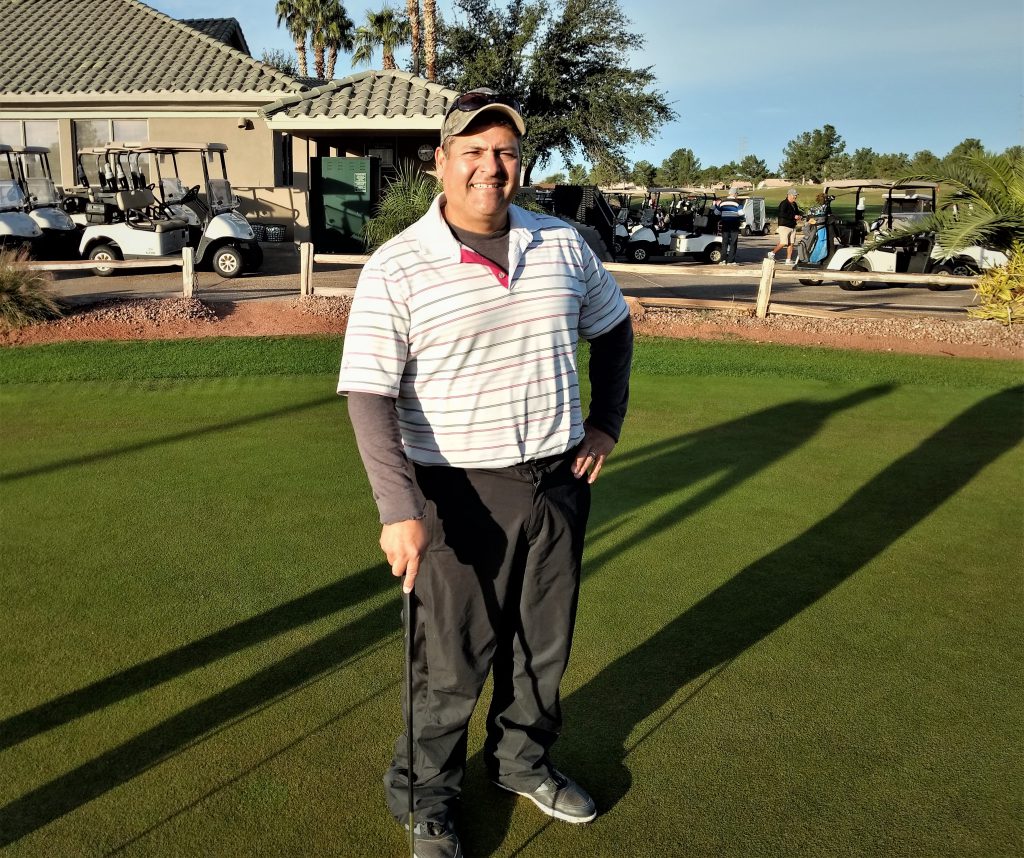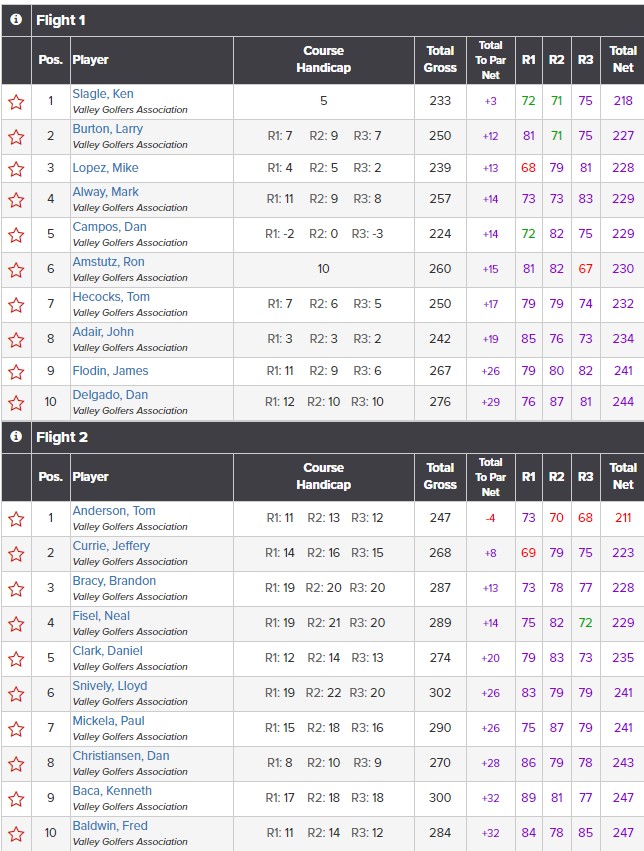 ---
Wednesdays 2020 4-Ball Winners at Orange Tree April 8, 2020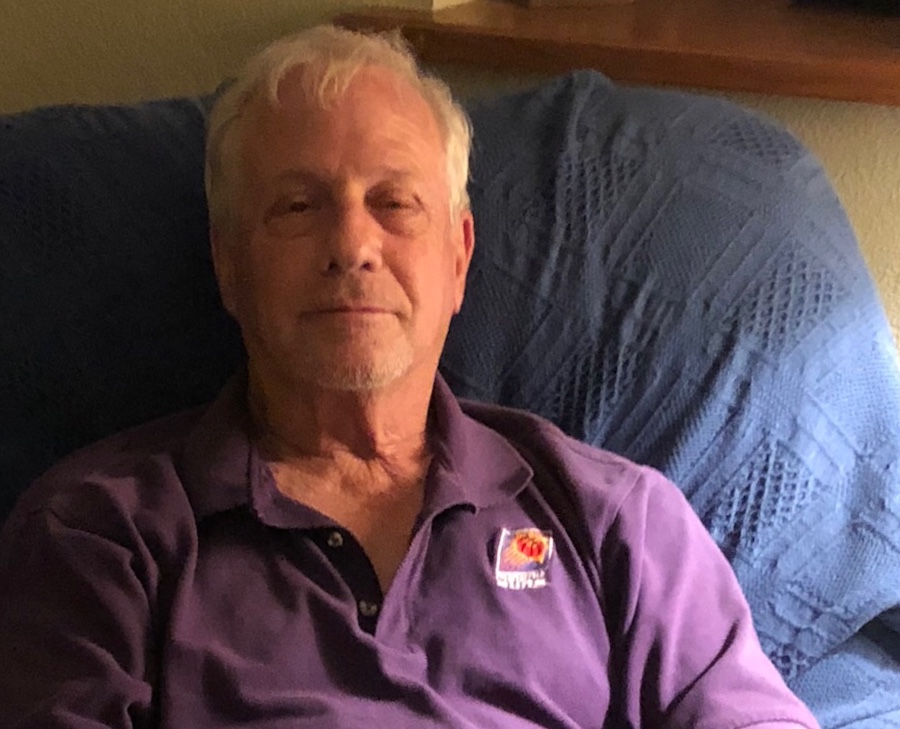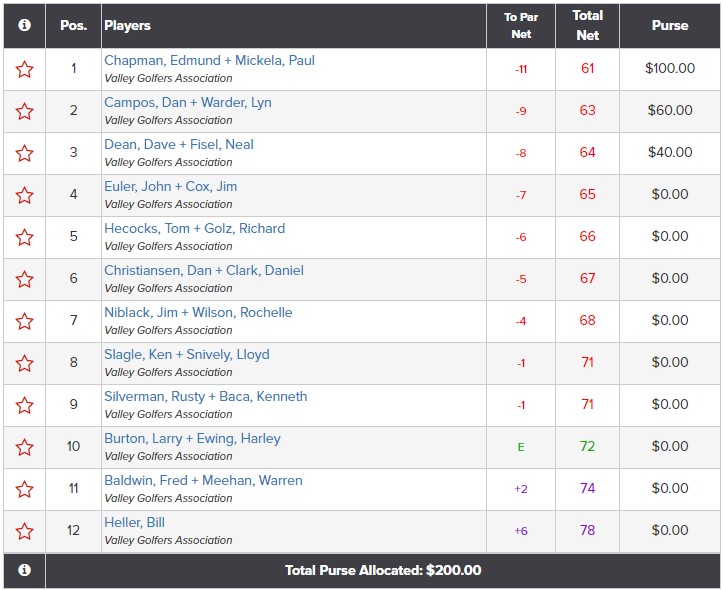 ---
Saturdays 2020 4-Ball Winners at Aguila May 2, 2020.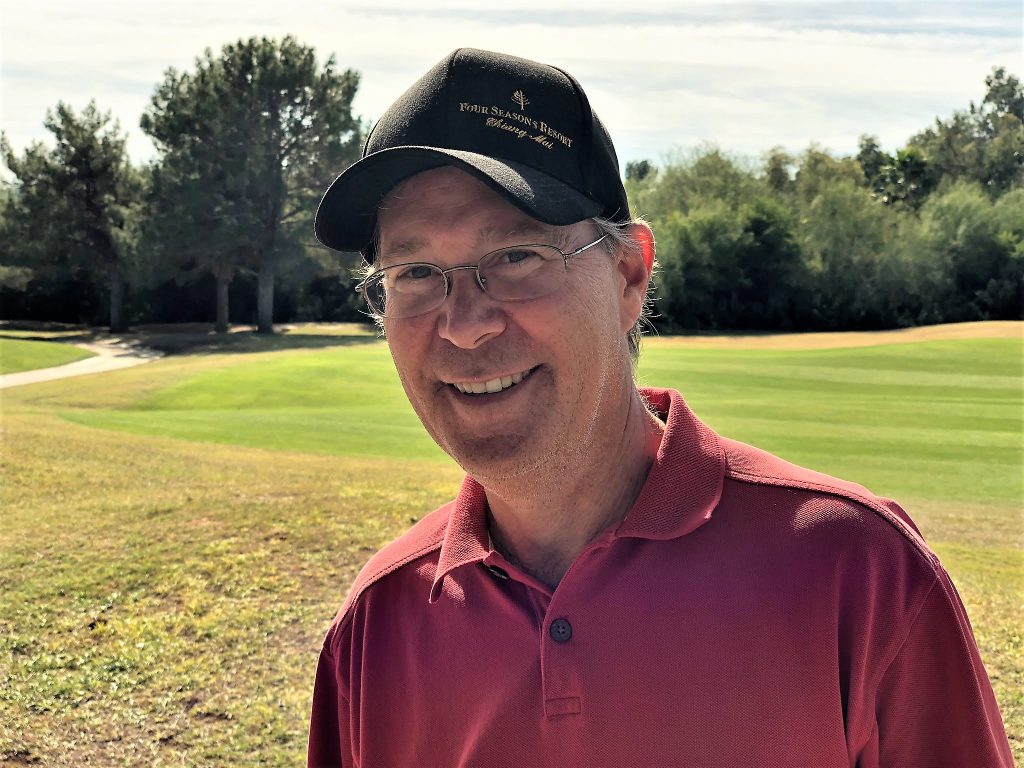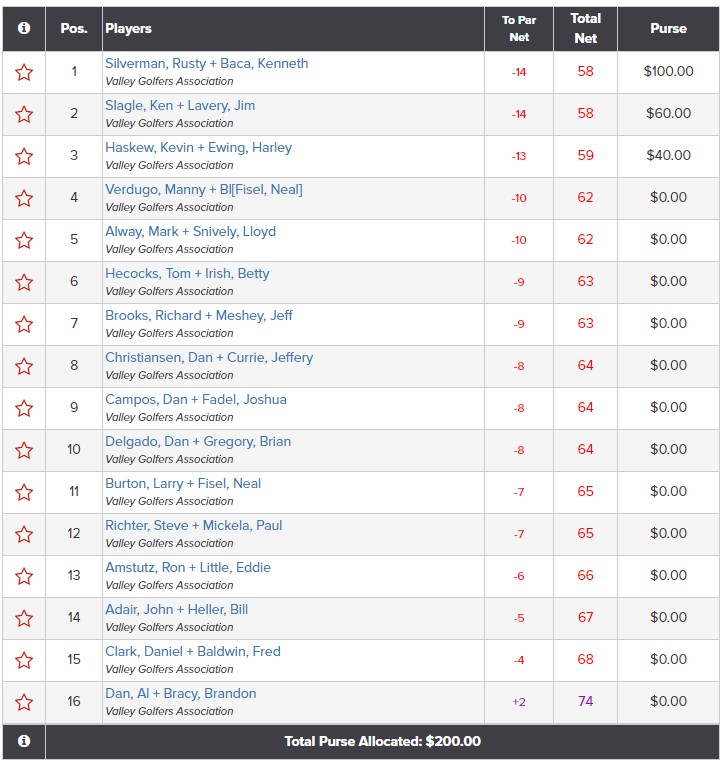 ---
Champion of Champions final round.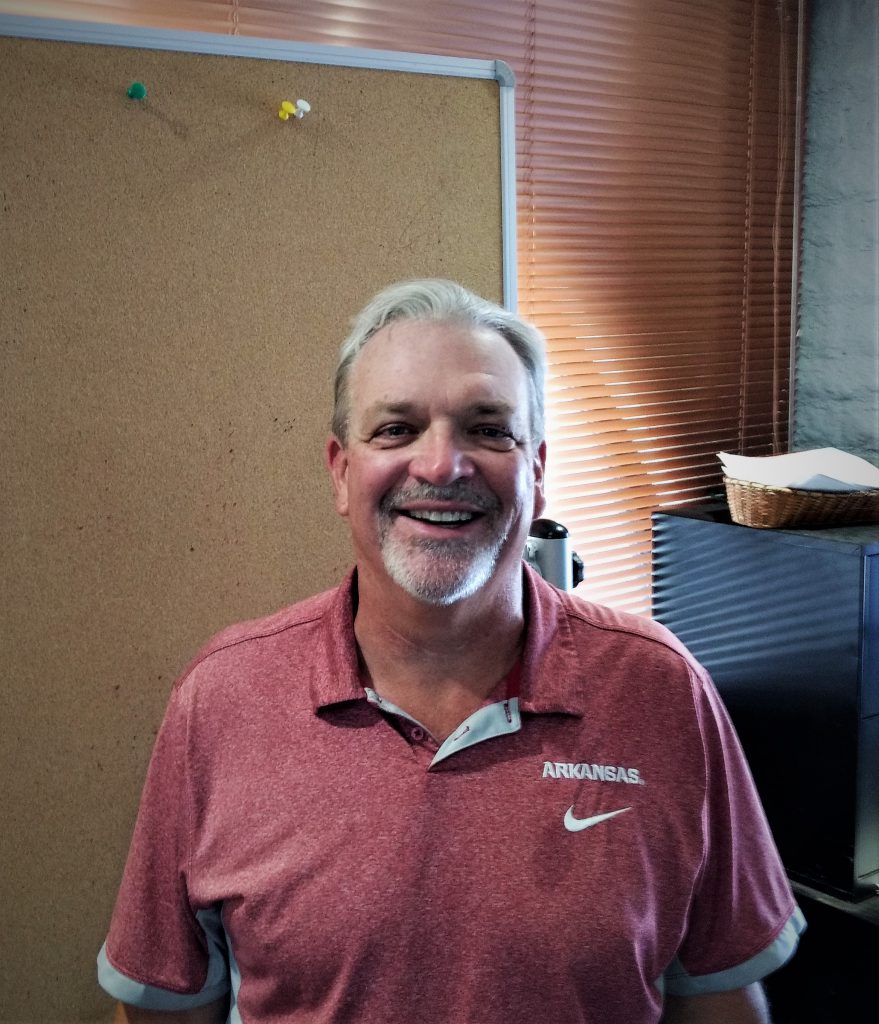 Round 1 of Saturdays Champion of Champions Play.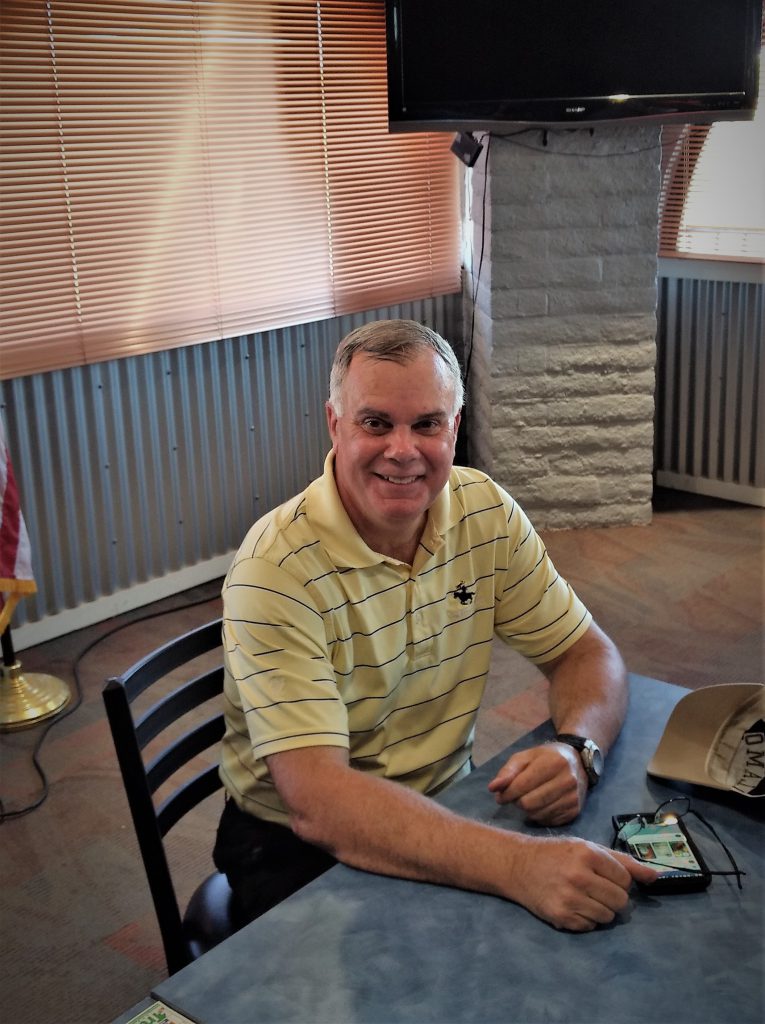 The 2019 Wednesday Champion of Champions play event.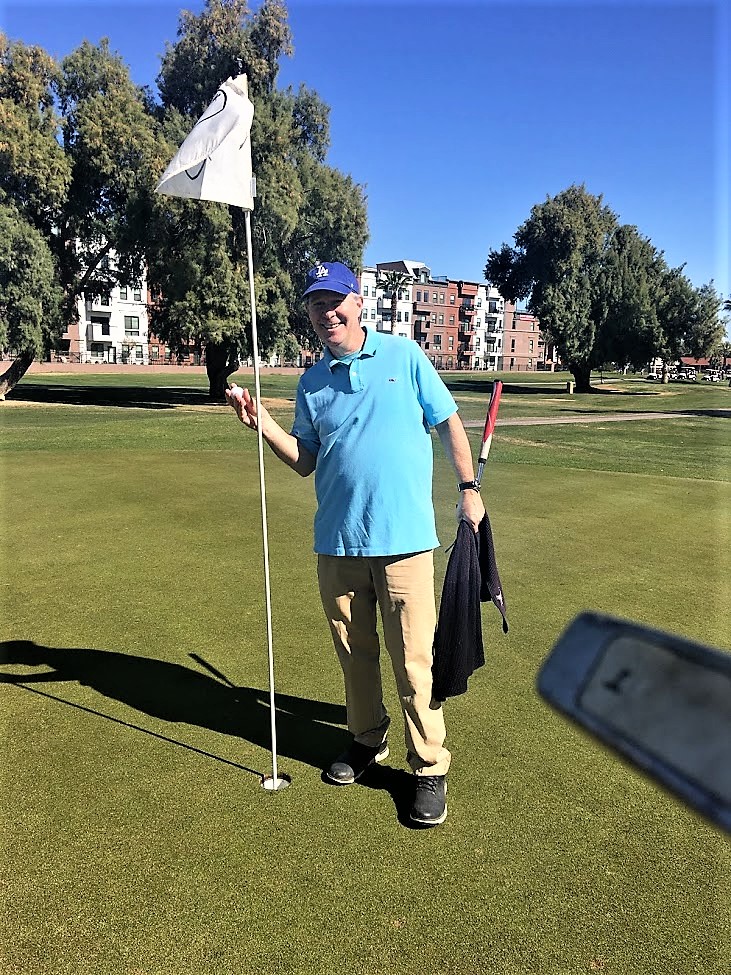 ---