Excellent warm and balmy day for golf at Ocotillo. Winners today were Dave Dean for 1st place at 67 net. Great job Dave. In second place John "Banger" Adair with a 68 net. Love to watch John hit a golf ball. Third and in my playing group, Steady Freddy Baldwin for third at 69 net. Fred was sinking putts like flushing a toilet. All you heard was whoosh ping. Nice job Fred. Fred and John Euler were having quite a dual out there. Lots of great shots from those two. Nice to see a old friend out there today too, Harry Dunham. Looking fit and ready to play, hope he does some day. Rest of the field scores below.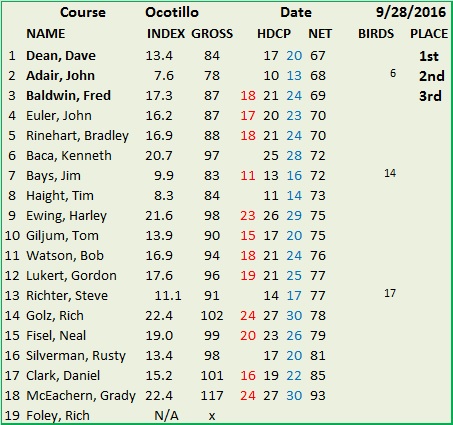 New VGA newsletter for Quarter 3 follow this link. 2016 September Newsletter Q3
---
Upcoming Events you need to be involved in.
The VGA board voted to have an annual Two-Man Best Ball Tournaments for both a Wednesday and a Saturday event.  Golfers that enter the normal VGA event will be ranked by handicap with the lower half labeled A and the upper half labeled B.  The tournament chair will assign pairs for the two-ball tournament, one player from the A list and one from the B list.  The VGA will post $200 as prize money for both tournaments, $100 for first place, $60 for second, and $40 for third.  The event is named The Don Peterson Two-Man Best Ball Tournament in honor of our President Emeritus Don Peterson.  The normal VGA event will run in conjunction with best ball tournament.  This year's tournament schedules are Saturday, October 22, 2016 at Aguila Golf Club and Wednesday, October 26, 2016 at Ken McDonald Golf Course. Please note there is no extra fee for signing up so don't let money hold you back.
The VGA Club Championship, is a stroke play tournament to be held November 5, 2016 at  Dove Valley Ranch and November 12, 2016 at the Palmbrook CC in Sun City.  All VGA members are eligible to play in the two-day event, but should be aware that in order to be Club Champion you must have participated in at least 10 regular season events after the last VGA Club championship was played. The tournament is played as a 36 hole event over these two weekends with participant's net and gross scores determining the final winners. There is a one-time $10.00 entry fee for participation in the Championship tournament.  The VGA treasury  pays $200, $150, and $100 for the top three gross scores and $200, $150, $100, $75, $50 for the top five net scores. A banquet will follow at the Palmbrook Country Club following the event to award prizes and is free to Members. Guests may be charged extra for the banquet to be determined later. The Championship event will be held concurrently  with the regularly scheduled VGA events.
Next up for VGA, Saturday, October 1, 2016 Falcon GC (not Falcon Dunes) 8:00:00 AM $25.00