Lots of things happening for VGA today. Winner of today's event was Dick Brooks back from his Summer lair in Minnesota. Welcome back and good play by you at 66 net on a course that was less than perfect. Another thing happened today that to my knowledge has not happened before in a VGA event. A woman member takes a second place finish. Margaret Storms finished one stroke behind the winner at 67 net and welcome to VGA to her. Didn't know there were any glass ceilings at VGA but if there are any Margaret broke one today. Fantastic for you Margaret and VGA too. Coming in at 69 for third place, Danny Clark. Well played indeed winners. The weather was pretty warm again for late October, mid 90s I'm sure. We got caught in the overseed process. Grass was longer than usual for Ken McDonald and some greens had not been mowed. Early most putts produced a nice rooster tail of water. So you really had to hit them hard early. Cart path only doesn't usually help either. Definitively was beautiful though and should be back to normal soon. The other event played today was the Wednesday version of the Don Peterson 2 Man Best Ball event. Tim Haight and again Margaret Storms came in first. I had a bit of a let down going from 1st on Saturday at Aguila to Atta-a-boy on Wednesday. Way the golf ball bounces I guess. Had a blast with this event and I hope it continues for VGA play. Apologies go out to Rich Golz for me misspelling his name on numerous occasions. Try not to do that and will try not to let it happen again.
1st:    Haight and Storms    60
2nd    Dalton and Baca    60
3rd    Giljum and Baldwin    62
Atta boy    Richter and Ewing    62
Rest of the field below.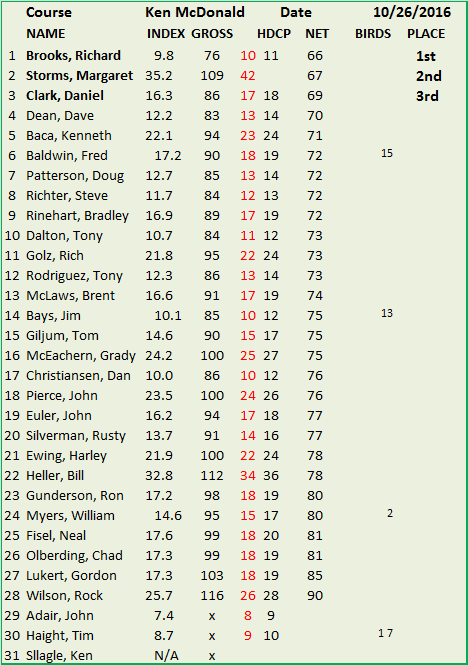 ---
Next up for VGA, Saturday, October 29, 2016 Tres Rios 8:30:00 AM $39.00.