Exciting event today at Ocotillo. 4-Way tie for first place with four players turning in 65 net scores. In first place, Dave Dean via scorecard playoff, 2nd place, Doug Rankin via scorecard playoff, 3rd place Jim Bays via scorecard playoff, Atta-Boy via scorecard playoff the "Golden Boy" Rusty Silverman. Way to go guys, sounded like fun was had by all. Don't forget to get in on the Don Peterson 2 man Best ball tournaments (no additional fees) at Aguila and Ken McDonald.
Two-Man Best Ball Tournaments for both a Wednesday and a Saturday event.  Golfers that enter the normal VGA event will be ranked by handicap with the lower half labeled A and the upper half labeled B.  The tournament chair will assign pairs for the two-ball tournament, one player from the A list and one from the B list.  The VGA will post $200 as prize money for both tournaments, $100 for first place, $60 for second, and $40 for third.  The event is named The Don Peterson Two-Man Best Ball Tournament in honor of our President Emeritus Don Peterson.  The normal VGA event will run in conjunction with best ball tournament.  This year's tournament schedules are Saturday, October 22, 2016 at Aguila Golf Club and Wednesday, October 26, 2016 at Ken McDonald Golf Course. Please note there is no extra fee for signing up so don't let money hold you back. "2-Person Best Ball" is a golf format for teams comprised of two golfers. Those two golfers play their own golf balls throughout and the lower score between them on each hole counts as the team score. Two-Person Best Ball can be used in tournaments or by any group of four golfers (who want to play 2-vs.-2).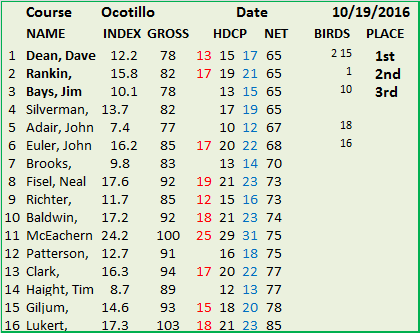 Next up for VGA, Saturday October 22 2016 Don  Peterson 2 Man Best Ball event No fee @ Aguila City Card 8:42:00 AM $49.00.