Scoring for Today
George Kowalchik 1st place

Dave Dean 2nd place

Mike Roether 3rd place
George Kowalchik does it and scores 64 net to win at Palm Valley. Nice work George. Dave Dean takes 2nd place with a 67 net score. Mike Roether and Richie Rich Golz tied at 68 net. Mike got 3rd place and Richie got the Atta Boy on a scorecard playoff. Next up Champion of Champions play and regular play at Union Hills.
The Champion of Champions tournaments is set for early May 2019.
The Saturday tournament is scheduled for May 4 at Union Hills. The Wednesday tournament is scheduled for May 8 at Raven at South Mountain. It is a one-week handicapped total strokes event for those members who won at least one VGA Wednesday or one Saturday tournament in the previous year (November 1, 2017, through October 31, 2018). The Wednesday and Saturday winners will have an 18-hole playoff to decide the overall Champion of Champions and the second place finishers will play for an overall third place. Prize money will be awarded at the annual banquet as follows; first place – $100, second place – $60, and third place $40. There is a $10 fee to enter each event.
Big Dogs

Net Scoring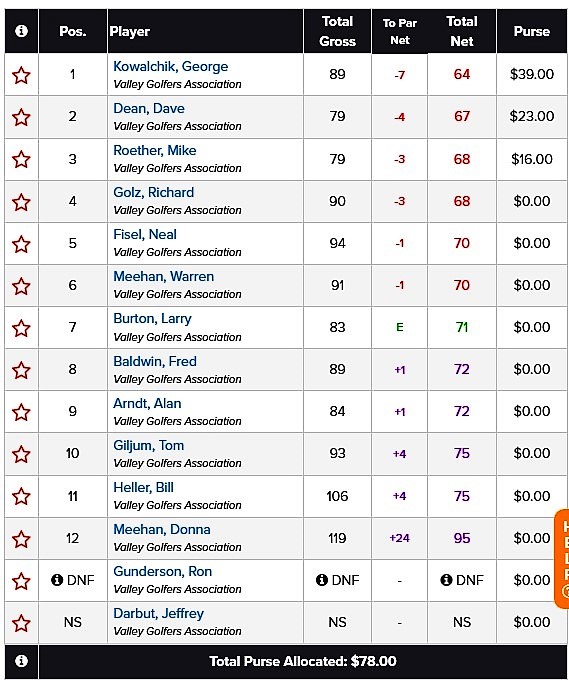 Birds

CTPs

---
Next, up for VGA, Saturday, May 4, 2019, Union Hills, 7:30 AM, $ 39.00, + Champion of Champions Event. Click here for course info.