Bear Creek Scoring
Steve Richter 1st place today

Fred Baldwin 2nd place

Rich Golz 3rd place
Steve Richter took most of the marbles today winning the event with a 65 net. Lucky, Steady Freddy Baldwin never hit a green in regulation and finished 2nd place with a 67 net. Rich Golz got 3rd place with a 68 net, and Harley Ewing and Richard Brooks shared the Atta Boy. Whoopee.
Big Dogs for Today.

All Scores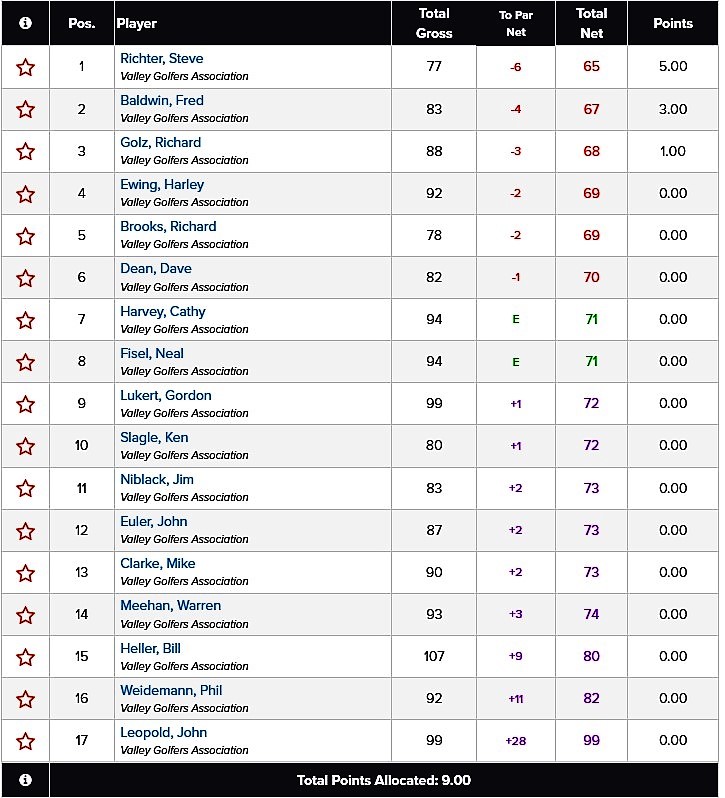 Birds

CTPs

Tony Dalton Celebration Tournament, Saturday, February 9, 2019, @ Great Eagle (Happy Trails) 8:00 AM SG, $37 +, After the Event, we will go next door to the Arizona Traditions for a Celebration of Life for our Departed VGA President Tony Dalton who passed away Monday January 7th. 2019. Hope you can make it for both events. If you don't wish to play but come to the Celebration of Life for Tony, please let your wishes be known by replying to this email "I'm coming to the Celebration for Tony". or sign up on the online entry form. Do either now as we need to plan.
Changes have been made. Pick up an updated VGA printable Schedule here.
Saved by the new rules. In my VGA experience, I have hit myself on four different occasions including last Saturday at San Marcos. All with a dreaded 2 stroke penalty. No more my friends. Read it and believe it.

---
Next event for VGA, Saturday, January 19, 2019, Falcon GC info click here, (3) 8:00 AM $ 47.00.