In first today was Tom Hebert with a 70 net. Nice round Tom as it appeared it was playing tough today.  His group was over the 30 min rule getting in so Tom lost out on the cash. 1st place money and 2nd overall went to Tim Haight at 72 net, nice job as always. Second place money and third over all went to Tony Dalton with a 74 net. Third place money and Atta-a-Boy  went to Dan Clark with a 76 net. There was indeed some controversy that occurred and was sorry to see the a ruling that has been in effect since March 2015 caused Tom Hebert to lose out on his cash award. He will get his points for 1st place however. Here is the ruling that was passed by the VGA Board and appeared in the March 2015 newsletter.
Existing customs and rules. All Players and Guests must check in at the events end on time, if they expect to win any prize money.  Coordinators will wait no longer than 30 minutes after the next to the last group completes their round.  If the final group comes in later than 30 minutes after the next to last group, then the final group will not be paid any of the cash prizes. No one will be paid if they show up after the event coordinator finishes the payout.
I know everyone likes to set a pace that feels good for them. Special effort must be taken especially if you are in the last group to keep up with the group in front of you. If you don't,  you can see what could happen. Nothing is more tiresome than having someone prod you to hurry up all the time. That applies to the course ranger or anyone in your group that wants you to move on faster. Think of it this way, just 2 minutes per hole adds up to 36 minutes more time wasted per round. So use the Desert Rule when possible and don't go chasing around endlessly looking for a lost ball. Get up to putt and align your putt while others are putting. Six practice swings may be too many. Standing over your ball to hit it does not necessarily mean a better shot. Hit the ball. Please just remember there are guys playing behind you that really don't want to watch each of your foresome line up his putt endlessly. Rest if the field below.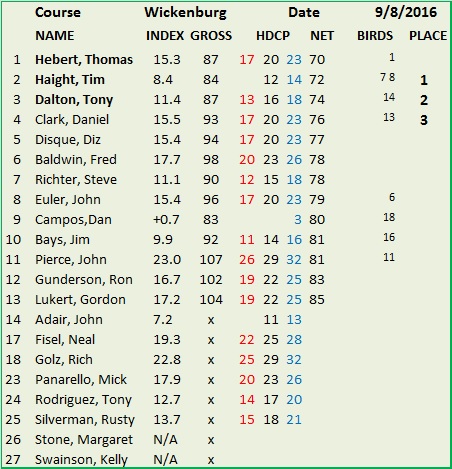 ---
How to Play Ready Golf (Google it yourself)
Forget about the Honors System because it only wastes time.
Be ready to make your shot when it is your turn to play and do not be afraid to shoot out of turn.
Have your club ready and yardage marked before your partner has hit.
When approaching a green, return your cart as close to the next tee box as possible. This can save about one-half hour per round.
Limit time searching for lost balls. Use the Desert Rule.
When a hole is completed, leave the green promptly and proceed to the next tee without delay. Do the scoring for the previous hole while others in your group are playing the next tee.
If you are holding up the pace of the course, allow the players behind you to play through.
Only take one practice swing per shot.
Hit only one ball per hole.
Eliminate money games from your group.
This will quicken your pace by 15-45 minutes per round.
---
Next up for VGA is Wednesday, October 12, 2016 Legacy / SG 7:30:00 AM $44.00