The Saturday Version of the Don Peterson 2 man best ball tournament and of course the regular VGA event were played concurrently in one event today. VGA donated some pretty good prize money and it didn't cost our players a penny extra. Pretty nice eh? So don't miss out on the Wednesday version this coming Wednesday at Ken McDonald course in Tempe. In first today and playing a spectacular round in 63 strokes, Steve Richter. Second place went to Danny Delgado three strokes off Steve's pace at 66 net. Three players tied at 67 for third place, Tim Haight took the money on the scorecard playoff and Diz Disque and John Pierce shared the Atta a Boy award. Good scores out there today guys everyone worked hard. We started at 852 AM 10 minutes late, but it got pretty warm towards the end. My phone showed 96 when we hit the cantina.  Rest of the scores below for the regular event.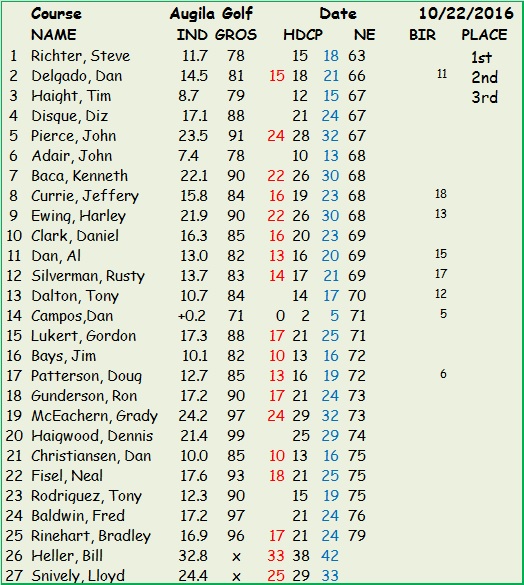 Official Scores just in for the inaugural Don Peterson 2 man Best Ball for Saturdays.
1st        Bays and Ewing, score of 56
2nd      Dan and Lukert, score of 59
3rd  Haight and Snively, score of 60
Atta boys          Adair and McEachern,  Richter and Baldwin, scores of 60
Next up for VGA, Wednesday October 26 2016 Don  Peterson 2 Man Best Ball event No fee @ Ken McDonald / ShotGun 7:30:00 AM $40.00 
You now have the opportunity to renew your VGA membership early and save $5 too. If you are renewing your membership log on to Arizona Golf Association site and click on the Post a Score/Club Renewal button on the left side of the screen. Follow directions from there.  If you get stuck call me Harley Ewing at 480-648-8589 or the number on the AGA site (602)-944-3035 ask for Betty. To get your $5 discount you must renew before January 1, 2017. Keep your membership current, you don't want to miss out on VGA benefits.