If you didn't get a chance to get out and play Wickenburg Ranch today, just view the video above to catch what you just missed out on. The video is a promotional from 2015. I'm pretty sure it has done nothing but improve as it matures. Ask those that played it, I'm sure it will be on your lists of must plays next time it appears on our schedule. Dan Campos showed once again why he's Mr Scratch. He shot a gross 69 and net 65 to win the pretty difficult course today from the tips you say. Well done Danny wish I could have watched. Speaking of Giants, the "Little Giant" Ron Gunderson pulled out a 66 net for second place. Too bad he didn't enter the prize pot. Third place and 2nd place money goes to Lloyd Snively. Great going Lloyd, I can only hope your slice is cured for good. Two players tied at 71 net, Neal Fisel took the Atta-a-Boy for 4th place and third place money on the scorecard playoff with Margaret Storms. For the first time to my knowledge in the history of VGA, Margaret shares and captures the highly sought after Atta-a-Girl award. Keep on hitting them straight girl. Next up Troon North another course you will want to play so sign up if you haven't already. Rest of today's field scores are below.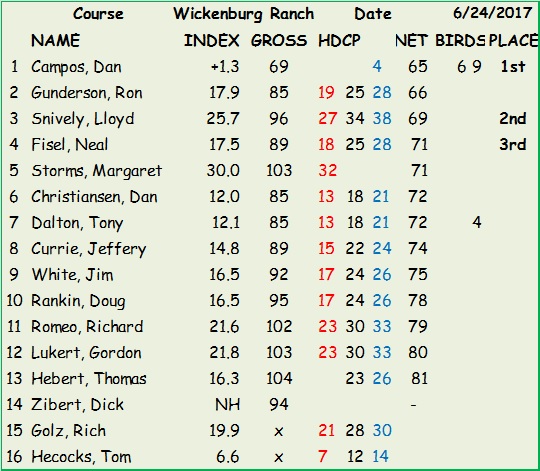 ---
Next up for VGA, Wednesday, June 28, 2017 Troon North 7:30 AM $52.00.
---
Golf Humor
So you think you have a hitch in your swing?
Don't forget your friends. A friend sent this to me today and I thought it applied here too.  To my Golf friends.
A newlywed young man was sitting on the porch with his father on a hot, humid day; sipping ice tea with his father. 
As he talked about adult life, marriage, responsibilities, and obligations, the father thoughtfully stirred the ice cubes in his glass and cast a clear, sober look on his son.
"Never forget your friends," he advised, "they will become more important as you get older."
"Regardless of how much you love your family and the children you happen to have, you will always need friends. Remember to go out with them occasionally, do activities with them, call them …"
"What strange advice!" Thought the young man. "I just entered the married world, I am an adult and surely my wife and the family that we will start will be everything I need to make sense of my life."
Yet he obeyed his father; Kept in touch with his friends and annually increased their number. Over the years, he became aware that his father knew what he was talking about.
In as much as time and nature carry out their designs and mysteries on a man, friends were the bulwarks of his life.
After 60 years of life, here is what he learned:
Time passes.
Life goes on.
The distance separates.
Children grow up.
Children cease to be children and become independent. And to the parents, it breaks their heart but the children are separated of the parents.
Jobs come and go.
Illusions, desires, attraction, sex … weaken.
People do not do what they should do.
The heart breaks.
The parents die.
Colleagues forget the favors.
The races are over.
But, true friends are always there, no matter how long or how many miles away they are.
A friend is never more distant than the reach of a need, intervening in your favor, waiting for you with open arms or blessing your life.
When we started this adventure called LIFE, we did not know of the incredible joys or sorrows that were ahead. We did not know how much we would need from each other. Love your parents, take care of your children, but keep a group of good friends. Dialogue with them but do not impose your criteria.
You might send this to your friends (even those you seldom see); who help make sense of your life ……