Well if you played today I'm sure you came away with a favorable impression of Wickenburg Ranch and the Golf course there. Sure looks beautiful in the pictures, but don't they all? Should have been a first time for a lot of our players, so I'm sure it was interesting play. No messing around for John Adair, the long ball hitter won today with a smoking 64 net. Tied at 65 nets and one stroke off the winning pace, were Dan Christainsen and Danny Campos two veteran VGA players who can hit with the best of them too. Christainsen won on a scorecard playoff. Campos get 3rd. Nice scoring guys hope it wasn't to hot. On a personal note, I had an opportunity to speak to Don Peterson on his 76th Birthday today. He sounded good and it was great to speak with him. He was quite instrumental in getting me into VGA. I had some friends that were members and I used to like to play as a guest with them from time to time. Don put a stop to that and got me to join up and pay the dues. Glad he did, I think. His asked that I convey his greetings to all the VGA members. Miss you out there, my friend. All scores for today below.
.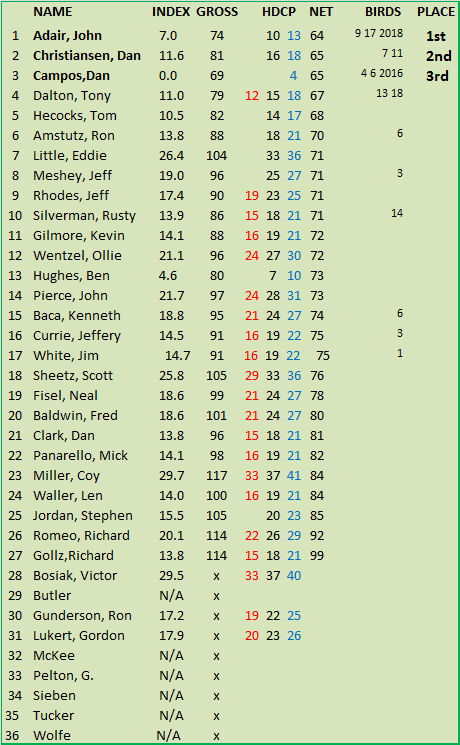 ---
Preview for next week:
Next VGA event, Wednesday August 3 2016 Boulders 7:20:00 AM $54.00. This will be an opportunity for any of you who need to get revenge for your play on June 8th when we played there before. What a spectacular course it is, get out there and play for $$$ well of the Winter rates. I talked with the Ranger last time out, and said he heard last Winter groups were paying up to $300 to play it per person.