Ben Hughes beats Southern Dunes, the humidity and the heat to win the event today with a 66 net by one stroke over 2nd place finisher, Margaret Storms. Margaret shot a 67 net today. She was in my group so I got to see it first hand. As always very steady down the middle but her putting was awesome today. She made a very tricky 40 footer from off the fringe of the Par 3 hole # 4 green that would make any Pro proud. Nice work Margaret. The "Golden Boy" Rusty Silverman and Chris Ray locked up in a tie with 68 net scores. Rusty won out on a scorecard playoff and Chris alas gets the Atta-a-Boy.  Troon North is up on Wednesday with the rest of the field's scores below.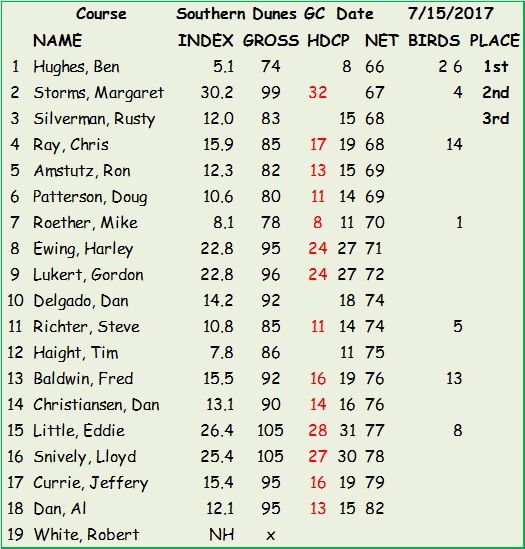 ---
Next up for VGA, Wednesday, July 19, 2017 Troon North 7:30:00 AM $52.00
---
Golf Humor
Here is an actual sign posted at a golf club in Scotland:
 

1. Back straight, knees bent

 

2. Feet shoulder width apart

 

3. Form a loose grip

 

4. Keep your head down!

 

5. Stay out of the water

 

6. Try not to hit anyone

 

7. If you are taking too long,

 

let others go ahead of you

 

8. Don't stand directly

 

in front of others

 

9. Quiet please while others

 

are preparing

 

10. Don't take extra strokes
Well done.. Now, flush the urinal,
go outside, and tee off.