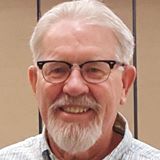 What a beautiful day it must have been at Apache Creek, temps in the low 70s and a slight breeze blowing. Beneath the shadows of the Mighty Superstition Mountains where his massive Villa is under renovations, Grady McEachern came up with a very decent round, especially for a guy playing with virtually one shoulder functioning.  He captured 1st place with a 63 net score, by two strokes over two players tied at 65 net. Dare I say, "You are Da Man Grady". Unfortunately he was not in the player's pot, so he settled for the glory. Dan Clark at 65 net assumed his legendary role once more by winning 1st place money. Tom Hecocks also had 65 net but lost to Dan on a scorecard playoff for 2nd place money. Neal Fisel at 66 net got the 3rd place money and an Atta-a-Boy in the Big Dog points. Dan Christiansen also tied with Neal at 66 net took an Atta-a-Boy in everything, I guess you could say. Bear Creek Wednesday let's get out and play some golf. Rest of the fields scores below.
Some words from our PotVGA Tony Dalton: I have to say the course was in excellent condition. This is the first time I have played it and I asked the rest of the guys who played it before and they all said this is the best they've ever seen it. The greens were very smooth, semi fast and the Fairways all had grass on them. If Grady had put a few more dollars and he could've won all the cheese today, as it is he got first place Dog points with a great score of 63 net.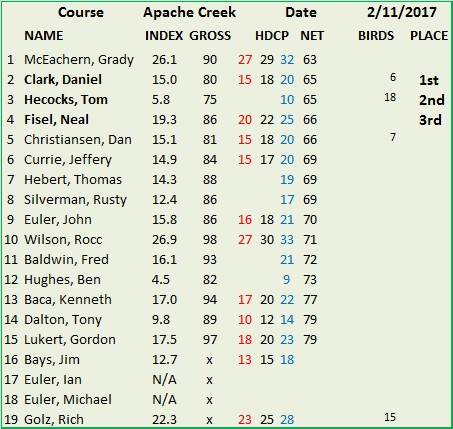 Next VGA event is, Wednesday, February 15, 2017 Bear Creek – shotgun 8:15 $54.00.