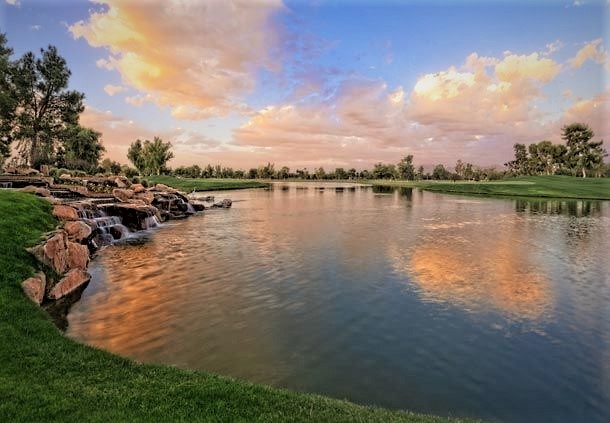 Todays Scoring
James Belanger 1st place 62 net

Vance Roether 2nd Place

Tom Hebert 3rd place.
Jim Belanger scores a better than a good score to take first place at Camelback Ambiente course today at net 62. Nice work Jim. Vance Roether in for second place at 64 net. What is happening, Vance? Tom Hebert claims 3rd place with a 65 net. Rusty Silverman and Dan Campos shared the Atta Boy at 67 nets.
Big Dogs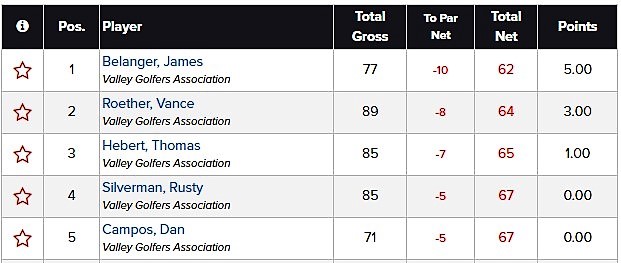 1st Flight Low Net Scoring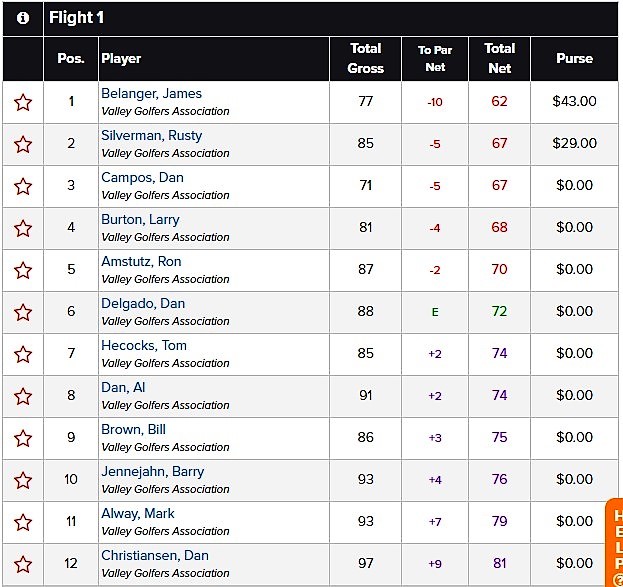 2nd Flight Low Net Scoring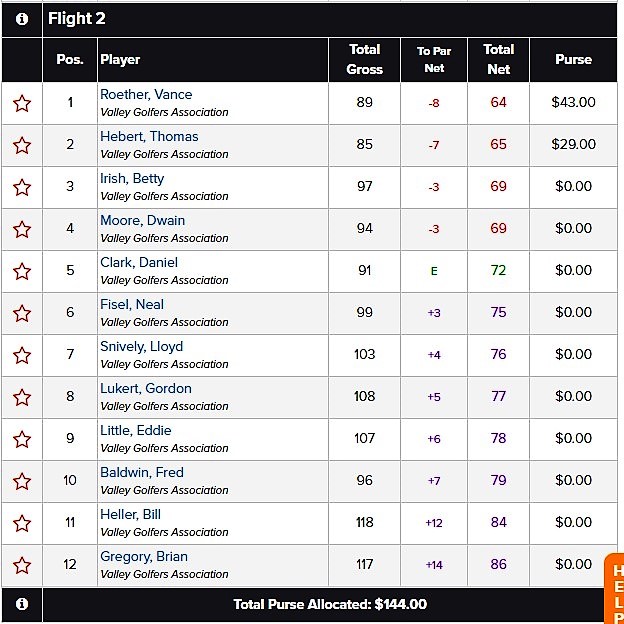 Birds

CTPs

In the shades of Golf Humor.
THESE GREENS ARE SO FAST I HAVE TO HOLD MY PUTTER OVER THE BALL AND HIT IT WITH THE SHADOW…..SAM SNEAD
ACTUALLY, THE ONLY TIME I EVER TOOK OUT A 1-IRON WAS TO KILL TARANTULA. AND I TOOK A 7 TO DO THAT…JIM MURRAY
THE ONLY SURE RULE IN GOLF IS – HE WHO HAS THE FASTEST CART EVER HAS TO PLAY THE BAD LIE…MICKEY MANTLE
I DON'T FEAR DEATH, BUT I SURE DON'T LIKE THOSE 3-FOOTERS FOR PAR…CHI CHI RODRIGUEZ
AFTER ALL THESE YEARS, IT'S STILL EMBARRASSING FOR ME TO PLAY ON THE AMERICAN GOLF TOUR. LIKE THE TIME I ASKED MY CADDIE FOR A SAND WEDGE AND HE CAME BACK TEN MINUTES LATER WITH A HAM ON RYE…CHI CHI RODRIGUEZ
THE BALL RETRIEVER IS NOT LONG ENOUGH TO GET MY PUTTER OUT OF THE TREE…BRIAN WEIS
SWING HARD IN CASE YOU HIT IT…DAN MARINO
MY FAVORITE SHOTS ARE THE PRACTICE SWING AND THE CONCEDED PUTT. THE REST CAN NEVER BE MASTERED…LORD ROBERTSON
Next, up for VGA, Wednesday, August 14, 2019, Wildfire-Palmer, 7:00, AM $55.00. Click here for Course info.