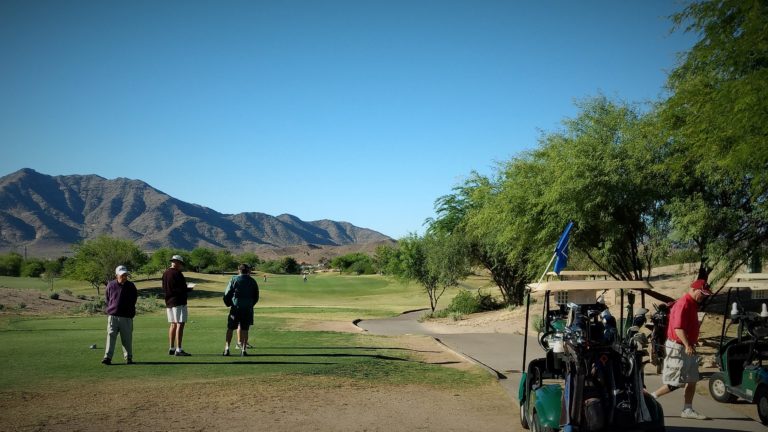 Twas a beautiful day for Golf in AZ. Temps started at 60s & went to 80 something. A lot of wind late but nothing that wasn't manageable. "Steady" Freddy Baldwin is back again. You'd think he lived on Elm Street he's back so often. He picked off 1st place with a nifty 65 net. Nice work and well done indeed. Jeff Currie took 2nd place at 67 net. Glad you could make it out today Jeff. Tied at 68 nets were Rusty "Golden Boy" Silverman and Dan "Scratch" Campos. Rusty won the third place money on a scorecard playoff and Dan took the Atta-a-Boy. Next up Verrado on Wednesday beautiful course so make it out there. Notes for today, heard a lot of chuckling from Rusty  playing in front of us today. Now we know why. He was playing very well. Almost beaned all the guys in his group. Hit my drive on to the opposite fairway and upon checking the green it was completely vacant. Hidden in a swale to the right was their entire fore-some. Well of course I pulled it, apologies guys. The Legend playing in my group proved it again by Birdieing # 18 from 60 yds. Nice shot Dan Clark you always pull off some legendary shots. Poor Bill Heller also in my group suffers a cruel trap that was a trap. All I know is that he hit number 12 out of it thru the fence finally and Xed out. No fun sometimes. Also in my group, Margaret Storms as nice a person as I have ever played a round of golf with. Thanks for making it a great day. Rest of the field's scores below.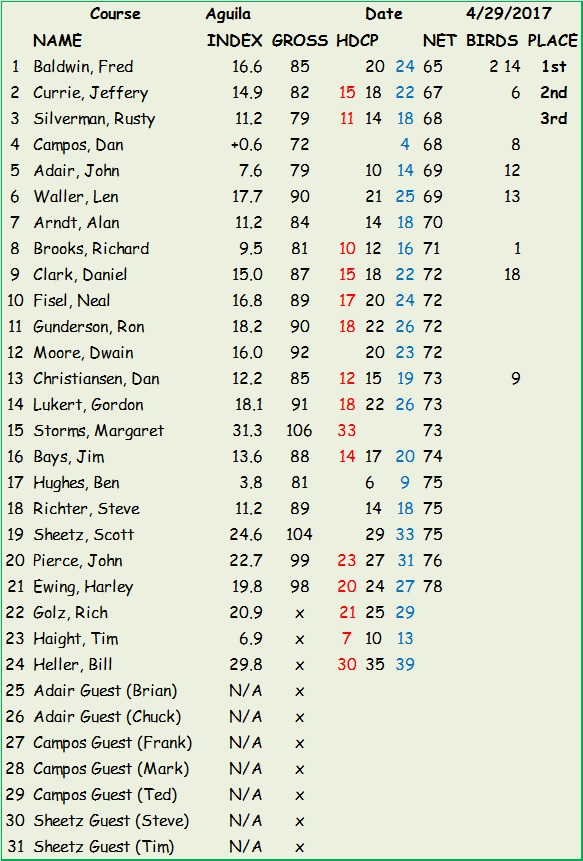 ---
Next up for VGA, Wednesday, May 3, 2017 Verrado Golf Club 8:00 AM $50.00. 
Tucked in the foothills of the White Tank Mountains in Buckeye, Arizona, stretching to more than 7,000 yards, and offering jaw dropping views and rugged natural beauty, Verrado Golf Club is an exceptional West Phoenix Valley golf experience that can accommodate golfers of all levels. After your round, the Verrado Grille restaurant is a great place to relax and take in the Sunset!
---
Golf Humor