Click here for the Online Entry Form.
---
Next up for VGA, Saturday, June 29, 2019, Stonecreek, Shotgun start 7:30 AM, $45.00. View Course info click here.
If you would like a preview of what you will be playing at Lookout Mtn click here for this Flyover. This site will require Adobe Flash be on your computer and activate it to view. Your choice.
The Event Coordinators
Wednesday events contact is Neal Fisel at 623-363-6658 or email Neal Fisel. Saturday events contact is Fred Baldwin at 480-282-3207 or email Fred Baldwin. Want to know what to expect? Click here. Read the complete sign-up rules by clicking on this link prior to signing up if you are not familiar with them. They will govern your entry.
Course info and Tee sheets
To obtain Course info connect to their website by clicking the link at the top of the page. To view any Pairing (Tee sheets) or Handicap or results, VGA-USGA-Golf Genius Portal Click here anytime. As a general rule tee sheets are published 2 to 3 days in advance of the event. If you do not find your name on the T sheet then you must call the event coordinator immediately if you wish to play. Do not be left out always make sure your name is on the T-Sheet. Results for the VGA events will be published immediately after the closing of the event paperwork usually at the course. Past and present events can be retrieved to see results.
Golf Genius Sign up and confirmation.
At this current time, we are sending out invitations for every event to every player on our roster via e-mail. If you are not receiving our emails please contact the event coordinator for that particular event. You will be asked to either sign up for playing or not playing. Please check the correct box when you receive it. You will be signed up for the event that you've chosen. The form automatically sends you a confirmation of your entry or declining entry. You will be given an opportunity to send a message back to the coordinator after you have declared Playing or Not Playing on the confirmation you get. Questions about this page info may be directed to vgaweb@outlook.com.
Legend (Range balls inc. unless marked 1=no range balls, 2=Lunch, 3=food credit or another prize +=Plus tax) Please fill out the form with all required entries below.
---
Winners for 2019 and 2018
2019 VGA Event Winners / 2018 Final VGA Event Winners / VGA Special events here. Please review the sign-up policy. Using our online entry form is the preferred way to enter. Find Events schedule click here.
---
2019 Champion of Champions Event
The Champion of Champions tournaments is set for early May 2019.
The Saturday tournament is scheduled for May 4 at Union Hills. The Wednesday tournament is scheduled for May 8 at Raven at South Mountain. It is a one-week handicapped total strokes event for those members who won at least one VGA Wednesday or one Saturday tournament in the previous year (November 1, 2017, through October 31, 2018). The Wednesday and Saturday winners will have an 18-hole playoff to decide the overall Champion of Champions and the second place finishers will play for an overall third place. Prize money will be awarded at the annual banquet as follows; first place – $100, second place – $60, and third place $40. There is a $10 fee to enter each event.
Don Peterson Two-Man Better Ball Events.
The Don Peterson Two-Man Low Net tournaments are set for February. The Wednesday event is February 27, 2019, San Marcos 8:30 AM $55.00 + 4-ball match play. The Saturday event is March 9, 2019 Union Hills, 8:00 AM, $49.00 + 4-ball match play. As in the past, members will be paired by the event coordinator based on their handicaps. Prize money will be awarded to the following places: first place – $100, second – $60, and third – $40. These are fun events. Come out and play with one of your golfing colleagues and maybe get some cash. No extra entry fee to play. Free Money?
San Marcos Two Man Best Ball event scores.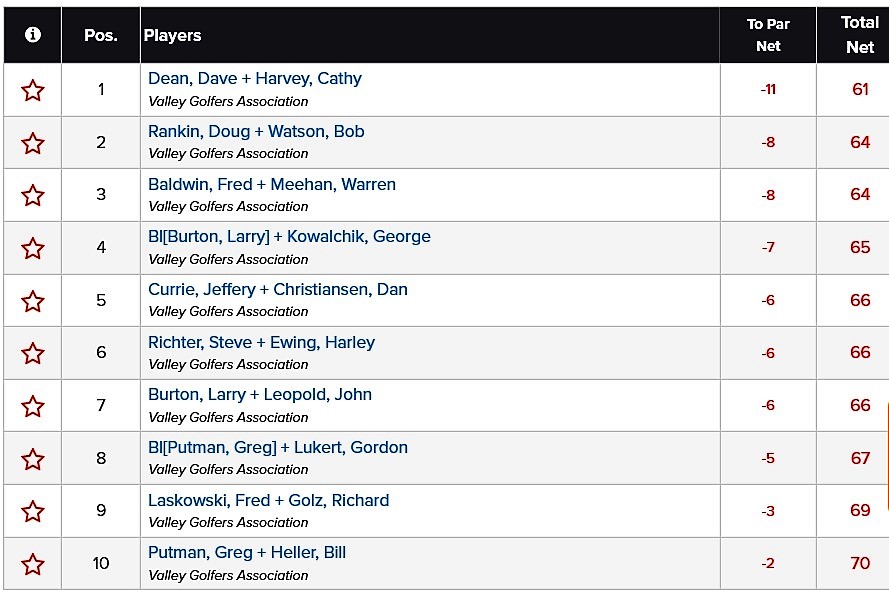 Union Hills 2 man Best Ball results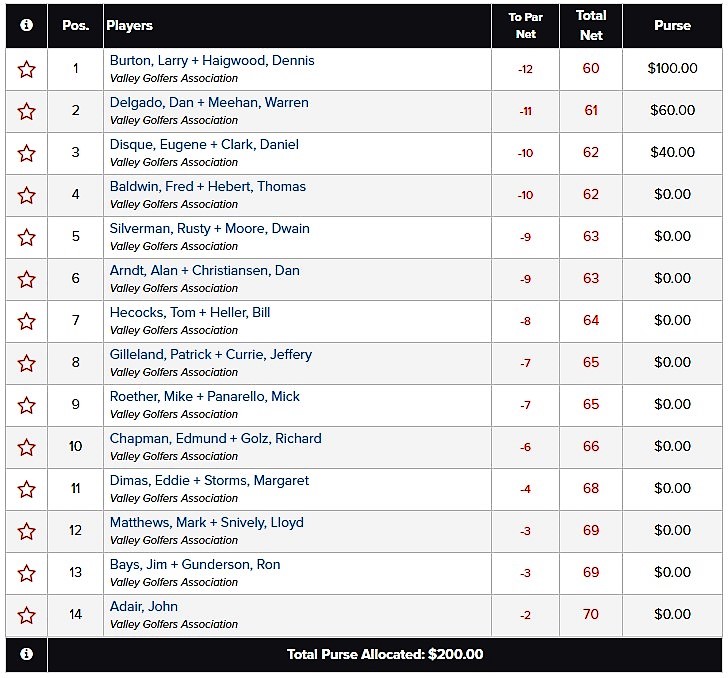 ---
John Pierce Green Valley Open Tournament.
The John Pierce Open Tournament is a stroke play tournament, usually held in late May or early June at venues typically in or around the Green Valley, Arizona area. A tournament is a three-day event covering Friday, Saturday, and Sunday with a practice round on Thursday for those who wish to participate. The VGA recognizes this event as an official tournament and all individual scores are posted daily as tournament scores in accordance with USGA rules. However, the VGA Board of Directors has designated this event only for the purpose of counting these rounds towards the 10 VGA rounds required for eligibility to play in the Club Championship. This means there are no Big Dog points awarded or hole-in-one prizes awarded. The VGA treasury does not contribute funds for this tournament. Entry fees are collected from participants and prizes paid to winners in amounts solely determined by the event coordinator. View 2019 results on this post click here.
Jim O'Keefe Cup Matchplay.
The Jim O'Keefe Cup is Ryder Cup-style tournament played each year between the VGA and the Saturday Golf League. The tournament consists of single matches and four-ball matches. The inaugural tournament was played in the fall of 2016. The cup is named in honor of Jim O'Keefe a long-time member who served as treasurer of the VGA for 20 years and also served on the VGA Board for many years. Jim passed away in March of 2016.
---
2019 VGA Club Championship
---